Maquoketa Middle School
Daily Announcements
Tuesday, August 29
"A" Day
Delmar Derby is Saturday, September 3, 2023. Check in is at 11, race is at 12. Adult and youth classes! Cars must be Boy Scout car kits. Information sheets are available in the office.
Football Skills Challenge (Punt Pass & Kick) is hosted by the Maquoketa Kiwanis. FRIDAY, SEPTEMBER 8, 2023 at the Maquoketa YMCA from 5-6pm This is Free and open to boys and girls ages 6-15. Forms are in the office!
Bowling Leagues are available at the Timer Lanes! See a poster for information, or stop by the Bowling Alley to sign up. Leagues will start right after Labor Day!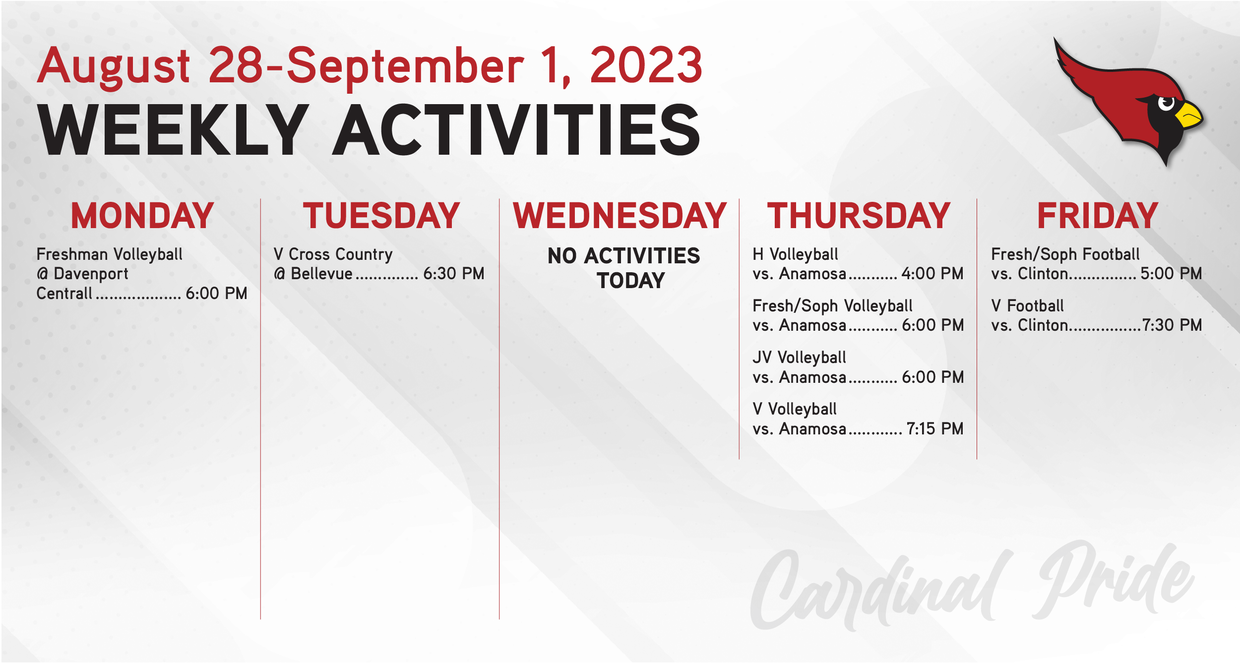 Today's Events: DISMISSALS FOR TODAY- Delwood/Andrew Students dismiss at 3:05
Upcoming Events: Maquoketa Events Calendar
Thursday, August 31
Volleyball vs Anamosa, 4pm @ High School
Monday, September 4
NO SCHOOL-Labor Day
Tuesday, September 5
Cross Country @ Tipton, 4:00, Dismiss at 2:00
Thursday, September 7
Football vs Camanche, 4pm
Volleyball @ Cascade 4pm, Dismiss at 2:35
Cross Country @ Northeast 4:30, Dismiss at 2:40
Monday, September 11
Volleyball vs DeWitt 4pm @ High School
Tuesday, September 12
Cross Country @ North Scott 3:45 Dismiss at 1:50
7th Grade Football @ Wilton 4pm, Dismiss at 2:35
8th Grade Football @ Wilton, to follow 7th grade, Dismiss at 2:55
Thursday, September 14
Cross Country @ Cascade 4pm, Dismiss at 1:50
Volleyball @ Beckman 4pm, Dismiss at 2:25
Monday, September 18
School Picture Day!
Cross Country @ Bellevue 4:00 Dismiss at 2:05
Tuesday, September 19
7th Grade Football @ Monticello 4pm, Dismiss at 2:45
8th Grade Football @ Monticello, to follow 8th grade, Dismiss at 3:05
Volleyball vs Northeast 4pm, @ High School
Thursday, September 21
Volleyball @ Bellevue 4pm, Dismiss at 2:45
Monday, September 25 Homecoming Week!
Fall Sports Pictures 3:30 Middle School Gym